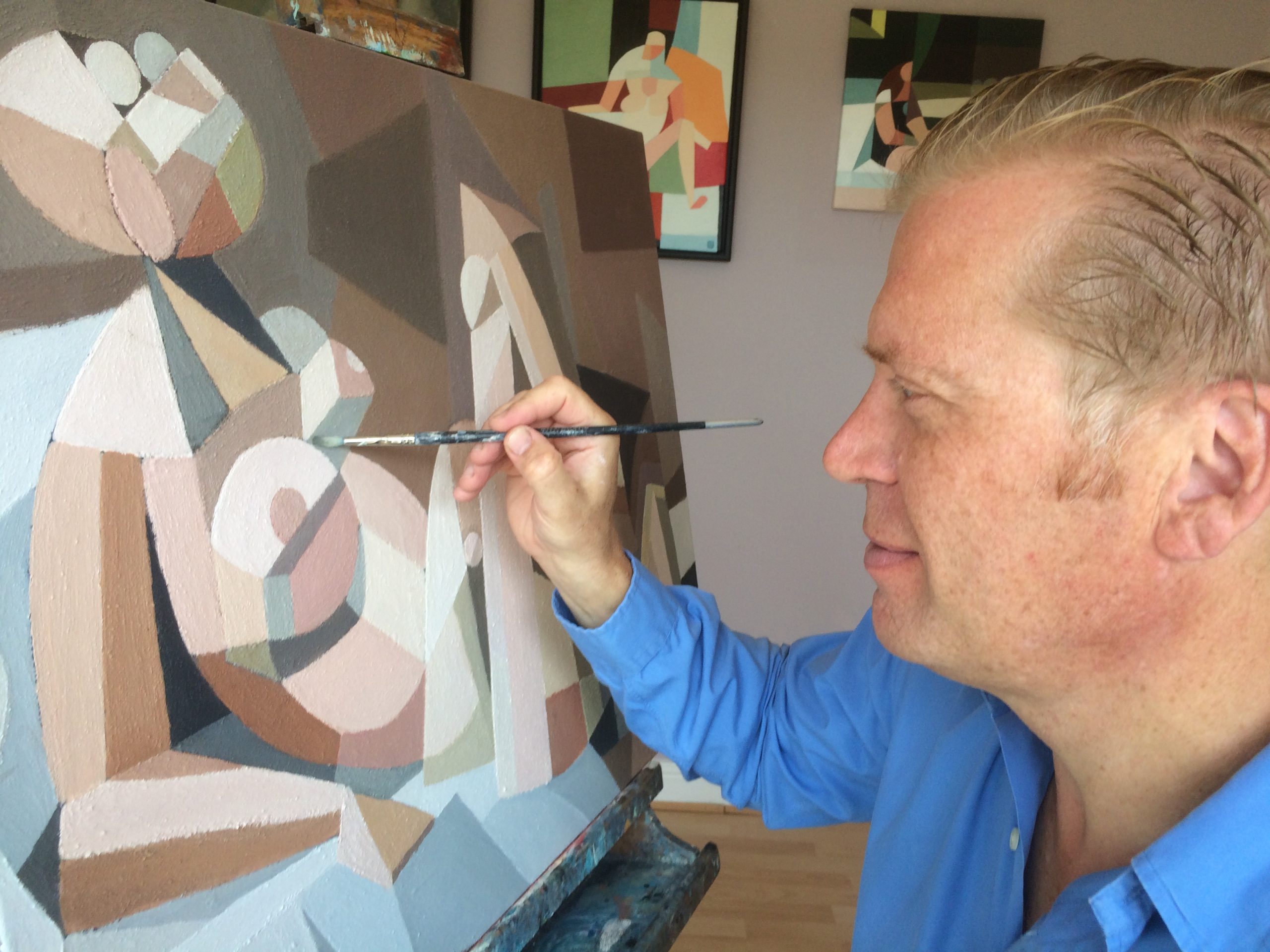 About the Artist

Anglesey-based artist, Andy Dobbie, creates colourful, geometrically fragmented paintings in oils and acrylics and bold, angular welded metal sculptures inspired by the human figure to investigate how we see, and understand, three dimensional 'form' in the physical world around us.

His work examines the way light strikes the planes of a figure; how the figure casts shadows on itself and its surroundings; how the shape of the figure creates negative space within and around itself; how movement around the figure changes our perception of these shapes, shadows and negative spaces; and, finally, how we interpret this complexity of visual signals to build a mental picture of the form of the figure and our orientation to it within a Cartesian space.

The human figure, being both infinitely variable and also instantly recognisable (assuming a few hints and clues are proffered), makes an ideal motif because it can be simplified and distorted whilst still remaining identifiable.

Concepts that have inspired Andy's approach to his work include;

The Modernist period of art, especially the Cubist and Vorticist art movements;
David Hockney's various discussions about the dominance of the 'monocular view' in art, together with his experiments with photographic 'joiners';
The course on 'Visual Perception and the Brain' by Dale Purves MD, particularly the section on the 'The Inverse Problem' as it relates to optics;
E.H. Gombrich's use of the phrase 'schema and correction' in his book, 'Art and Illusion';
The classic Father Ted sketch where he tries to explain to a confused looking Father Dougal that the toy plastic cow Ted holds in his hands is 'very small' whilst the real cow on a distant hillside is 'very far away'!
Artist's Statement

I paint pictures that seek to explore how we make visual sense of the physical world around us.

My work starts with observation from life during which I produce large, loose sketches of people, objects and places. These act as a record of the colours, values and shapes that most interest me. In particular, I am seeking examples that highlight our ability to observe the varied and confusing effects of light striking different surfaces and planes and, yet, still interpret them as forms in space.

Back in the studio, I reinterpret those sketches to further accentuate those aspects which invite further scrutiny. During this process, I also introduce fragments of memories of related objects and scenes from the past in order to enhance the sensation of changes in perspective as a result of the passage of time.

My objective is to achieve a point of balance between figuration and abstraction, such that the painting oscillates in the eyes of the viewer between the portrayal of recognisable objects in a believable visual arena, and the undeniable flatness that is the result of the act of painting on a picture surface; between truth and lie.

It has been said that all art is dialogue; a two-way conversation between the artist and the viewer, which is only complete once it has generated a response. To this end, I try to make work that poses thought-provoking, open-ended questions that invite further consideration and discussion.
Artist's Bio

Andy Dobbie is a full time professional artist living and working in Trearddur Bay on Anglesey. He paints pictures that seek to explore how we make visual sense of the physical world around us. He depicts a range of subjects in a variety of mediums, most recently developing a love of working in oils.

His artistic journey began in school, when he quickly realised he was not suited to 'A' Level science subjects (and especially Chemistry!) and so swiftly transferred to Art. Discovering a real enthusiasm for the subject, he took a 1 Year Art Foundation course at Coleg Normal in Bangor, where, amongst other things, he was taught drawing by Peter Prendergast and sculpture by Paul Davies.

Here Andy identified an interest in the three dimensional aspects of art but, despite being tempted to pursue sculpture more fully, he elected to pursue a degree in Industrial Design and Production at the Central School of Art and Design in London.

Sadly, this proved to be a misstep and Andy returned to Anglesey where he eventually ended up spending his working life in Manufacturing and IT, managing the implementation of complex business systems. During this period he had little opportunity to practice art, although his instinct to reach for a pencil and paper whenever faced with a difficult problem earned him a reputation as 'someone who likes to draw boxes around things'!

Andy was inspired to take up painting again approximately 10 years ago after reading David Hockney's various writings on art, and began spending every spare moment drawing and painting as well as attending local life drawing classes and workshops. He entered and sold work in several group shows and had one piece accepted to the Kyffin Williams Drawing Prize exhibition in 2012.

In May 2017 he finally took the plunge and gave up his career in IT to pursue his passion for art full time. Since then he has continued to work on improving his artistic practice, and maintains a dedicated 9-5 work ethic, ensuring he is in the studio practicing or creating throughout the working week and beyond.

He always starts by sketching and painting the figure or landscape from life, before returning to the studio where he seeks to reinterpret those sketches. He sometimes half-jokingly describes himself as a 'sculptor who paints', since he considers his current focus as being to both highlight and undermine the contradictions inherent in depicting three dimensional objects and spaces on the two dimensional picture plane.

Andy participated in his first Anglesey Arts Week Open Studios event in March 2018, during which he conducted several 'ad-hoc' live portrait drawing demos of any visitor who was willing to sit. He was also given the opportunity to conduct a live portrait demo at the Chester Arts Fair in November last year using a volunteer from the audience. More recently, he was invited to give a talk about his artistic journey to the Anglesey Art Group.

Andy has sold work through local shows as well as online galleries and his work is held in private and corporate collections in the UK, Malta, the USA and Australia. He also had another piece accepted to last year's Kyffin Williams Drawing Prize exhibition.

Andy takes inspiration from artists of all eras and movements, but especially from Post-Impressionism onwards and particularly from Cubism which, he feels, still has more to offer figurative artists in the digital age. His artistic heroes include Pablo Picasso, Henri Matisse and David Hockney.
Artist's CV

Awards:

January 2018 – Award for an Outstanding Body of Work from the Association of Anglesey Art Clubs Bienniel Exhibition, Oriel Ynys Môn, Anglesey
July 2009 (I think…) – 2nd Prize in the Art for All Competition, Ucheldre Centre, Holyhead

Exhibitions:

November 2018 – Chester Arts Fair (including conducting a 'live' portrait drawing demo), Chester Race Course, Chester
July 2018 – January 2019 – Kyffin Williams Drawing Prize Exhibition, Oriel Ynys Môn, Anglesey
May 2018 – Island Art Group Exhibition, David Hughes Centre, Beaumaris, Anglesey
March 2018 – Anglesey Arts Week Open Studios, Trearddur Bay, Anglesey
January 2018 – Association of Anglesey Art Clubs Bienniel Exhibition, Oriel Ynys Môn, Anglesey
July 2017 – Art for All Competition, Ucheldre Centre, Holyhead
May 2017 – Island Art Group Exhibition, David Hughes Centre, Beaumaris, Anglesey
May 2017 – 'Solo Exhibition', Roadking Truckstop Cafe, Holyhead, Anglesey
January 2014 – Association of Anglesey Art Clubs Bienniel Exhibition, Oriel Ynys Môn, Anglesey
July 2013 – Art for All Competition, Ucheldre Centre, Holyhead
July 2012 – January 2013 (I think…) – Kyffin Williams Drawing Prize Exhibition, Oriel Ynys Môn, Anglesey
July 2009 (I think…) – Art for All Competition, Ucheldre Centre, Holyhead

Employment:

2017 to date – Self-employed artist, Trearddur Bay, Anglesey
1990 to 2017 – Various management roles in IT and Systems Implementation, Holyhead, Manchester, Birmingham, Bangor

Education:

1984/85 – Completed 1 Year of 3 Year Degree in Industrial Design & Production, Central School of Art & Design,London
1983/84 – 1 Year Art Foundation Course, Coleg Normal, Bangor, North Wales
1983 – Art 'A' Level (Grade B), Cornwall
1982 – Art 'O' Level (Grade A), Cornwall